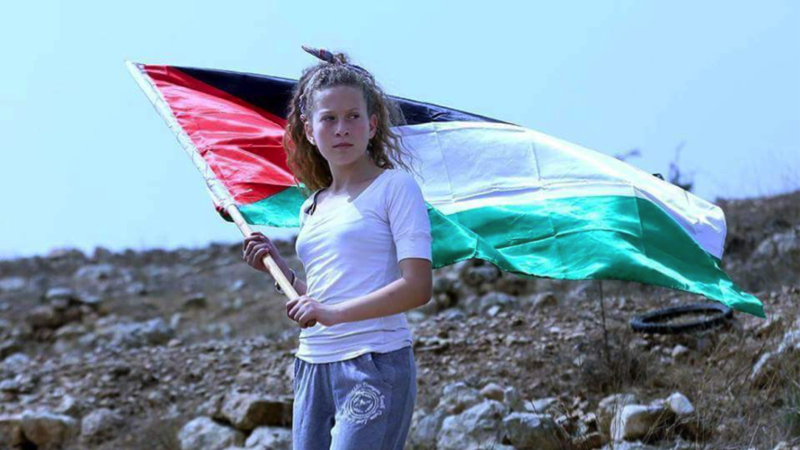 "Morte a Ahed Tamimi": coloni israeliani vandalizzano Nabi Saleh
Da quando il villaggio ha iniziato le sue proteste settimanali contro l'occupazione israeliana nel 2009, gli attacchi dei coloni residenti ad Halamish sono aumentati, con centinaia di ulivi di Nabi Saleh bruciati e distrutti dai coloni.

di Jaclynn Ashly, 4 febbraio 2018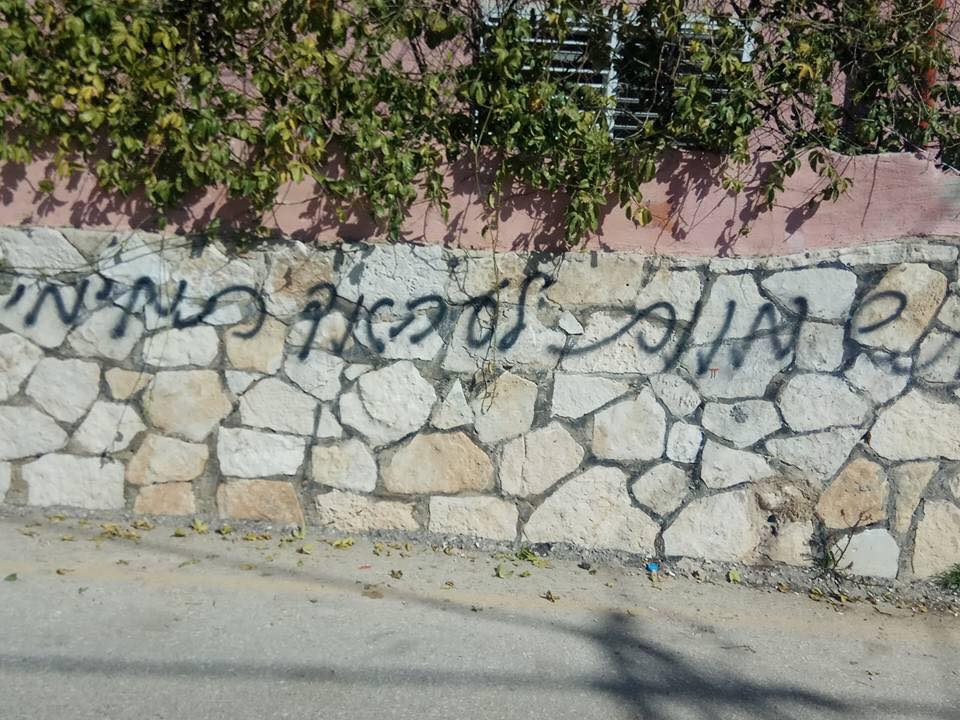 Betlemme, Cisgiordania occupata – Giovedì notte, quando i residenti di Nabi Saleh nella Cisgiordania occupata erano profondamente addormentati nelle loro case, coloni israeliani si sono aggirati furtivamente per le strade del villaggio sporcando muri con graffiti di minacce contro l'attivista adolescente incarcerata Ahed Tamimi e la sua famiglia.
Alcuni dei graffiti recitano: "Morte a Ahed Tamimi", "Non c'è posto in questo mondo per Ahed Tamimi" e un altro chiede che la famiglia Tamimi sia "cacciata dal Paese".
Bassem Tamimi, il padre di Ahed, ha detto a Mondoweiss che nessuno degli abitanti del villaggio ha visto i coloni entrare nel villaggio, ma che l'incidente è avvenuto ad un certo punto dopo l'una di notte. "I coloni hanno scritto che Ahed dovrebbe essere uccisa per spaventare gli abitanti di Nabi Saleh" ha detto.
Micky Rosenfeld, portavoce della polizia israeliana, ha detto a Mondoweiss che "le unità di polizia sono state chiamate a Nabi Saleh dopo che erano state riportate notizie di graffiti nel villaggio". Ha aggiunto che la polizia ha aperto un'indagine sull'incidente.
Bassem ha detto a Mondoweiss che un gruppo di coloni ha dichiarato anche sui social media che avrebbero aspettato fuori dal carcere israeliano HaSharon il giorno in cui Ahed verrà rilasciata e che poi uccideranno l'adolescente.
"Ho paura per mia figlia", ha detto Bassem. "Non solo è palestinese, ma il suo viso è diventato così riconoscibile che tutti sanno esattamente chi è e come è."
'Escalation ad un altro livello'
L'insediamento illegale israeliano Halamish si trova su una collina adiacente a Nabi Saleh. Dozzine di ettari delle terre del villaggio sono stati confiscati per permettere a Israele di costruire l'insediamento.
Dalla casa di Bassem, si può vedere una grande piscina sul tetto di una di queste unità abitative in stile americano che punteggiano la terra.
Questo è il luogo in cui Ahed ha dato il famoso schiaffo che ha trasformato l'adolescente in un'icona internazionale per quello che subiscono i bambini palestinesi sotto l'occupazione militare israeliana da oltre mezzo secolo.
Poco prima che Ahed affrontasse i soldati israeliani fuori di casa sua, il cugino di 15 anni era stato gravemente ferito, colpito a bruciapelo in faccia con un proiettile di gomma.
Un video dell'incidente – dove si vede Ahed che schiaffeggia e colpisce due soldati israeliani – è diventato virale e gli israeliani hanno scatenato una tempesta sui social media chiedendo l'arresto di Ahed.
Ahed e sua madre Nariman sono state successivamente arrestate per l'incidente e ora affrontano numerose accuse, tra cui presunti attacchi e incitamenti. Sono detenute da quasi due mesi nella prigione israeliana di HaSharon.
Dall'incidente dello schiaffo almeno altri nove residenti del villaggio sono stati arrestati, soprattutto durante raid notturni dell'esercito israeliano. Il 3 gennaio Musab Tamimi, 17 anni, un lontano parente di Ahed, è stato ucciso dalle forze israeliane nel villaggio gemello di Nabi Saleh, Deir Nitham.
"Siamo abituati ad avere a che fare con l'esercito israeliano che attacca le nostre case e fa irruzione nel villaggio", ha detto a Mondoweiss Manal Tamimi, parente di Ahed. "Ma c'è ora un'escalation ad un altro livello, a cui anche i coloni partecipano."
Ha aggiunto che questo incidente ha creato una situazione "ancor più pericolosa" per il villaggio.
'Dobbiamo stare più attenti'
Da quando il villaggio ha iniziato le sue proteste settimanali contro l'occupazione israeliana nel 2009, gli attacchi dei coloni residenti ad Halamish sono aumentati, con centinaia di ulivi di Nabi Saleh bruciati e distrutti dai coloni.
Dice Bassem che dopo un incidente in cui i coloni israeliani hanno tentato di dare fuoco alla moschea del villaggio, i residenti avevano messo a punto una strategia per impedire ai coloni di avvicinarsi al villaggio.
Avevano creato ronde di sorveglianza del villaggio, grazie alle quali residenti avrebbero percorso la periferia del villaggio e avvertito gli altri residenti dell'eventuale presenza di coloni o soldati.
Tuttavia, al momento, di solito i residenti del villaggio si informano a vicenda usando i social media o si chiamano quando avvistano coloni vicino al villaggio, suggerendo di lanciare sassi e far rotolare pneumatici in fiamme nella loro direzione nel tentativo di impedire che si avvicinino.
Il villaggio, che ospita circa 600 residenti, è abbastanza piccolo, tanto che in altre occasioni ai residenti è bastato andare sui tetti e gridare "coloni! coloni!"
Ma l'incursione dei coloni di giovedì sera ha lasciato il paese a disagio. "Nessuno sa come o quando sono entrati nel villaggio", ha detto Manal.
"Dovremo stare molto più attenti", ha osservato, aggiungendo che i residenti stanno prendendo in considerazione la possibilità di riprendere con le ronde di sorveglianza del villaggio dopo questo incidente.
'Prendere la legge nelle loro mani'
Secondo il gruppo israeliano per i diritti Yesh Din, in Cisgiordania un palestinese che presenta un reclamo alla polizia contro un israeliano ha solo l'1,9% di possibilità di ottenere "un'indagine efficace e che un sospettato sia identificato, processato e condannato".
Il gruppo ha notato che gli attacchi dei coloni coinvolgono "molti cittadini israeliani e includono atti di violenza, danni alla proprietà, acquisizione di terre palestinesi e altri reati".
Questi attacchi fanno "parte di una strategia calcolata per espropriare i palestinesi della loro terra", ha aggiunto il gruppo. Secondo l'Onu, nel 2017 sono stati segnalati almeno 150 attacchi di coloni in Cisgiordania, inclusa Gerusalemme Est.
Dall'arresto di Ahed, i leader israeliani di destra hanno definito l'adolescente una "terrorista" e hanno chiesto misure estreme contro la minore.
Naftali Bennett, ministro israeliano dell'Istruzione dell'estrema destra, ha affermato che Ahed e le altre donne che sono apparse nel video dovrebbero "finire le loro vite in prigione".
Oren Hazan, un parlamentare israeliano del partito Likud, ha detto alla BBC questa settimana: "Se fossi stato lì, sarebbe finita in ospedale. Di sicuro. Nessuno avrebbe potuto fermarmi. L'avrei presa a calci e calci in faccia, mi creda."
Secondo Manal, questi richiami alla violenza e alla dura detenzione della famiglia Tamimi hanno incoraggiato i coloni. "Vogliono prendere la legge nelle loro mani e punire la famiglia Tamimi", ha detto.
Tuttavia, Manal ha fatto in modo di esprimere la forza apparentemente incrollabile per cui gli abitanti di Nabi Saleh sono famosi. "Non abbiamo paura dei coloni o dell'esercito", ha detto. "Ma faremo in modo che quello che è successo giovedì sera non accada più."
traduzione: Simonetta Lambertini – invictapalestina.org
fonte: http://mondoweiss.net/2018/02/israeli-settlers-vandalize/
---
'Death to Ahed Tamimi': Israeli settlers vandalize Nabi Saleh
Bethlehem, occupied West Bank — On Thursday night, when residents of Nabi Saleh in the occupied West Bank were sound asleep in their homes, Israeli settlers crept through the village's streets, vandalizing walls with graffiti threatening jailed teen activist Ahed Tamimi and her family.
Some of the graffiti reads: "Death to Ahed Tamimi," "There's no place in this world for Ahed Tamimi," and another demanding that the Tamimi family be "kicked out of the country."
Bassem Tamimi, Ahed's father, told Mondoweiss that none of the village's residents had seen the settlers enter the village, but that the incident occurred at some point after 1 a.m. "The settlers wrote that Ahed should be killed in order to scare the residents in Nabi Saleh," he said.
Micky Rosenfeld, spokesperson for the Israeli police, told Mondoweiss that "police units were called into Nabi Saleh after reports of graffiti being sprayed in the village." He added that the police had opened an investigation into the incident.
Bassem told Mondoweiss that a group of settlers also stated on social media that they would wait outside Israel's HaSharon prison on the day Ahed gets released and then kill the teen.
"It makes me scared for my daughter," Bassem said. "Not only is she Palestinian, but her face has become so recognizable that everyone knows exactly who she is and what she looks like."
'Escalating to another level '
Israel's illegal Halamish settlement sits on a hilltop adjacent to Nabi Saleh. Dozens of hectares of the village's lands were confiscated in order for Israel to build the settlement.
From Bassem's home, a large swimming pool can be seen on the roof of one of these American-esque housing units that dot the land.
This is the location where Ahed threw her now infamous slap, which transformed the teen into an international icon for the experiences of Palestinian children under Israel's more than half-century military occupation.
Shortly before Ahed confronted the Israeli officials outside her home, her 15-year-old cousin had been severely wounded after being shot point-blank in the face with a rubber bullet.
A video of the incident — where Ahed is seen slapping and hitting two Israeli officials — went viral, and Israelis created a social media storm demanding the arrest of Ahed.
Ahed and her mother Nariman were subsequently arrested for the incident and now face numerous charges, including alleged assault and incitement. They have been held for nearly two months in Israel's HaSharon prison.
Since the slap incident, at least nine other residents have been arrested from the village, mostly during overnight Israeli army raids. On January 3, Musab Tamimi, 17, a distant relative of Ahed, was killed by Israeli forces in Nabi Saleh's sister village of Deir Nitham.
"We are used to dealing with the Israeli army attacking our homes and raiding the village," Manal Tamimi, a relative of Ahed, told Mondoweiss. "But it's escalating to another level, where even the settlers are participating now."
She added that this incident has created an "even more dangerous" situation for the village.
'We have to be more careful'
When the village began their weekly protests against Israel's occupation in 2009, attacks from settlers residing in Halamish escalated, with hundreds of Nabi Saleh's olive trees being burned and destroyed by settlers.
According to Bassem, after an incident where Israeli settlers attempted to light the village's mosque on fire, residents developed a strategy to prevent settlers from approaching the village.
They created village watch patrols, in which residents would wander the outskirts of the village and warn other residents if settlers or soldiers were seen.
However, nowadays, village residents typically notify each other on social media or call one another when settlers are spotted near the village, prompting village residents to throw rocks and roll burning tires towards them in an effort to prevent them from approaching.
The village, home to some 600 residents, is small enough that other times residents need only to stand on their roofs and scream "settlers! Settlers!"
But the settler incursion Thursday night left the village feeling uneasy. "No one knows how or when they entered the village," Manal said.
"We will have to be much more careful," she noted, adding that residents are considering bringing back the village watch patrols following the incident.
'Taking the law into their own hands'
According to Israeli rights group Yesh Din, a Palestinian in the West Bank who files a police complaint against an Israeli only has a 1.9 percent chance of it being "effectively investigated, and a suspect identified, prosecuted and convicted."
The group has noted that settler attacks involve "many Israeli citizens and includes acts of violence, damage to property, takeover of Palestinian land, and other offenses."
These attacks are "part of a calculated strategy for dispossessing Palestinians of their land," the group added. According to the UN, at least 150 settler attacks were reported in 2017 in the West Bank, including East Jerusalem.
Since Ahed's arrest, right-wing Israeli leaders have called the teenager a "terrorist" and have advocated extreme measures against the minor.
Naftali Bennett, Israel's ultra-right education minister, said that Ahed and the other women who appeared in the video should "finish their lives in prison."
Oren Hazan, an Israeli lawmaker from the Likud party, told the BBC this week: "If I was there, she would finish in the hospital. For sure. Nobody could stop me. I would kick, kick her face, believe me."
According to Manal, these calls for violence and harsh imprisonment of the Tamimi family have emboldened the settlers. "They want to take the law into their own hands and punish the Tamimi family," she said.
However, Manal made sure to express the seemingly unwavering strength that Nabi Saleh's residents are famous for. "We are not afraid of the settlers or the army," she said. "But we will make sure that what happened Thursday night will never happen again."
thanks to: InvictaPalestina